Thanks to a newly discovered Swedish 3rd cousin, a few more pieces of my family history puzzle are in place.
For the past few weeks, I've been hard at work researching my father's Swedish roots, primarily through the website ArkivDigital.
I really cannot say enough good stuff about this website. Provided you have a location with which to begin your research, the records are amazing. I had heard that Swedish records were some of the best in the genealogy world – and believe me, they are. Earlier this year I also spent some time researching this database and since then, I have identified and downloaded 70 or so records, all relating to my Swedish great grandparents and their ancestors.
Armed with all the new information I've obtained, I was able to do additional searching in Ancestry. And a few weeks ago, I noticed there were some Ancestry users from Sweden who had some of the same people in their tree that I have in mine. I contacted several of them – and finally located a Swedish cousin (svenska kusin)!!
My "new" cousin and I have determined that our great great grandfathers Äkers Lars Andersson (1827-1913)1 and Erik Andersson (1837-1919) were brothers.2 They were the sons of Östbors Goth Lars Larsson (1764-1834) and Östbors Margreta Larsdotter (1767-1807). Lars and Margreta had nine children total.
I will share more detailed information later, along with source information. But for now, I wanted to share my excitement over discovering a "new" cousin!
And just one more fun fact before I close this post. Through her research, my cousin learned that Lars was a boat or ship maker in Hudiksvall. In fact, she told me, he was "some kind of boss".
And she also said that the boats he made were "most certainly" wooden.
Hmmm, I thought. Wooden boat. Why does that sound so familiar?
And then I remembered this photo of my great grandfather, Lars' son Anders ("Andrew") Dalin.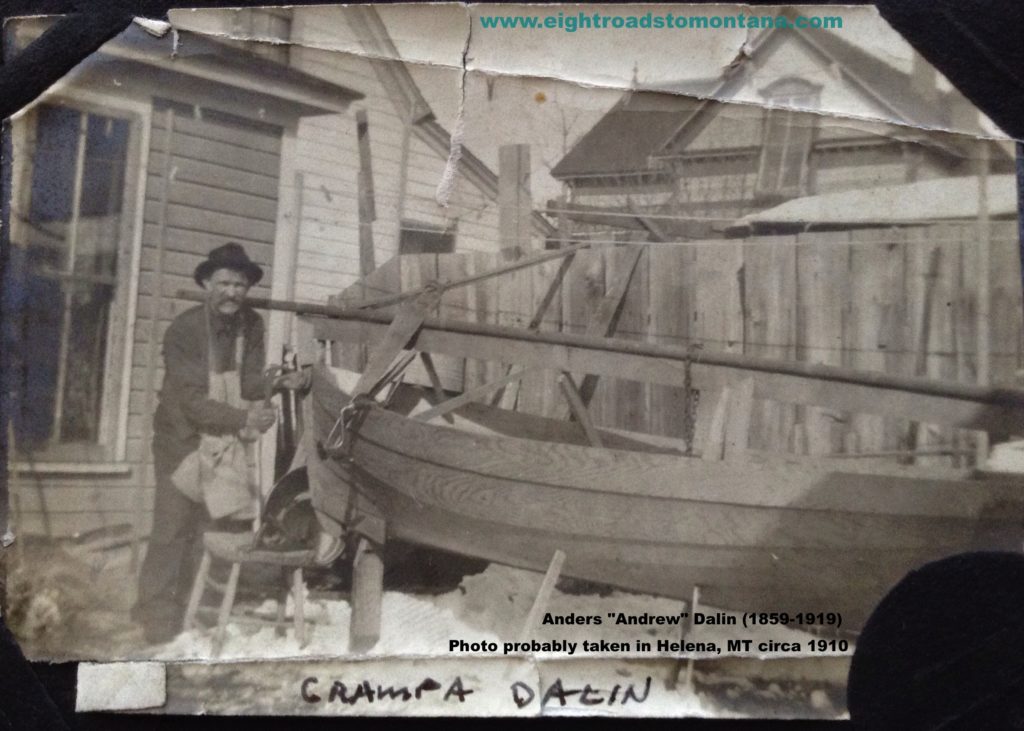 And now we know where "Grampa Dalin" learned to make a wooden boat.
---
NOTES
My new cousin tells me that the word "Äkers" on the front of Lars' name indicates either where he lived or was born, and was a common practice in the county where he was born. ↩
At some point later in their lives, both brothers added new surnames to their original names. Lars added DAHLIN (sometimes spelled DALIN) and Erik added GLAD. I am a descendent of Lars on my father's side and can confirm that DALIN is the surname that was handed down. I had recently wondered if the DALIN name was what they refer to in Sweden as a "soldier name". But my cousin confirmed that Lars was not a soldier. However, Lars' brother Erik was a soldier and GLAD is a soldier name. ↩