Click here to read parts 1 and 2 in this series . . .
Where in the world does time go? I've been busy researching my biggest "brick wall" and have totally neglected this blog series.
So now it's time to finally "WRAP IT UP!"
FRIDAY February 10th
Friday was African Heritage Day and was kicked off by LeVar Burton's inspirational keynote speech, truly one of the highlights of the week. I particularly enjoyed hearing him reminisce about his story-telling mentors, including his mother and a guy named "Fred" – he said we might know him as Mister Rogers.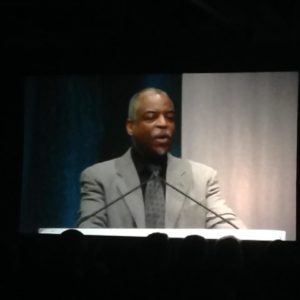 My first session of the day was at 11 o'clock – "Using Autosomal DNA to Help Extend a Lineage" by Thomas Jones. This session was probably my favorite of the week. I had so many take-aways from this presentation but I'll just share this one . . .
If you ever get a chance to hear Thomas Jones speak, GRAB IT!
The next session was "Instagram: 5 Reasons Genealogists Should Use It!" by Maureen Taylor, otherwise known as The Photo Detective. About a year ago, I had a phone consultation with Maureen about a few unidentified photos. You can read about that consultation here.
I was curious about this session – wondering if there might be any applications for genealogy bloggers. A couple ideas she shared along those lines . . .
Attracting people to a surname group
Sharing orphan photos and asking, "Who are the people in the photo?" or maybe looking for additional information about a photo, i.e., "Where are they standing?"
She also talked about watermarking photos, which I found to be helpful. Click here for a video she prepared on this topic.
At  3 o'clock, I attended another interesting session by Thomas Jones, "When Does Newfound Evidence Overturn a Proved Conclusion?"
Again, this session was a little over my head but I really wanted to hear him speak again. No matter the topic, I feel like I always learn something new from this guy.
I visited the Legacy Family Tree Webinars web page to see what presentations he has done there.1 And he has done three presentations, one of which is free. Click here for the link. And there's more good news! On September 19th, 2017, he is doing the same presentation I watched at Rootstech – I might even watch it again! Here's the link to sign up for free.
That evening, my husband and I attended the MyHeritage RootsTech After Party. Everyone had a great time!
Here's a short video from that night. There's a quick peek (and I do mean quick!) of me and my new friend Yvonne2 at the 11 second mark.
SATURDAY February 11th
I was unable to attend the General Session on Saturday morning, which was disappointing since I wanted to hear CeCe Moore. Luckily, her presentation was taped. Click here for the link.
The first session I attended that morning was "Irish Research – Using Online Resources", taught by Rick Sayre, a genealogist who specializes in National Archives records, federal and state land records, military records, using maps in genealogy, urban research, and government documents.
I learned a few new things . . .
Castle Garden, America's first official immigration center, has some immigrant records that are not on Ancestry.
The most comprehensive Griffith's Valuation records are at FindMyPast, including the original maps.
FindMyPast also has Landed Estates Court Rentals (1850-1885).
There is also a database at FindMyPast for landed deeds (including deeds from the 1890s) – the records are scanned but not indexed.
The Public Record Office of Northern Ireland (PRONI) has some records related to the Republic of Ireland.
FindMyPast will probably end up scanning and indexing the Valuation Revision records for the Republic of Ireland.
During the lunch break, I took some time to walk through the Expo Hall. Near the back of the hall, behind the Media Hub, was this amazing chart (30 ft x 100 ft) from Genealogy Wall Charts.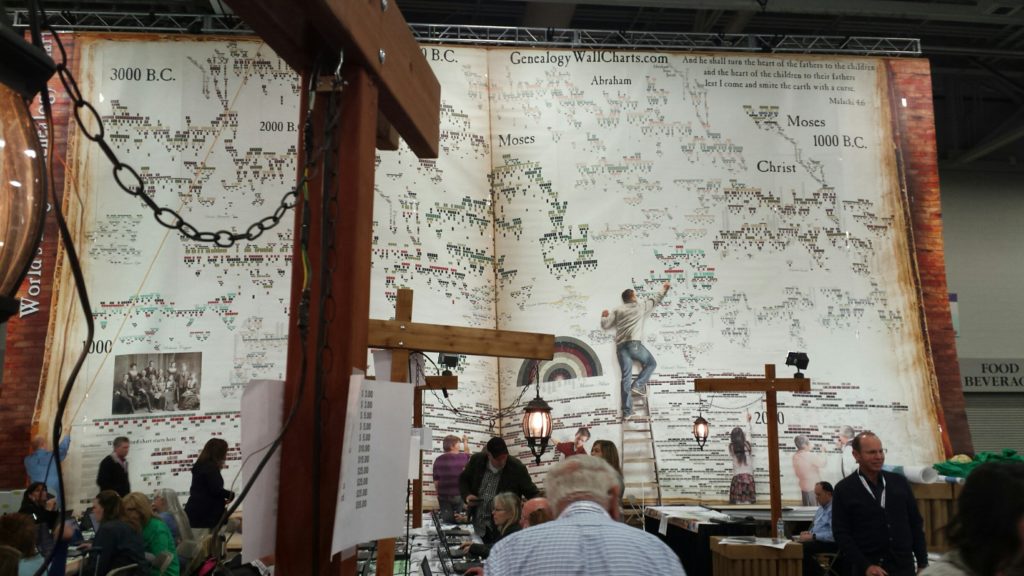 At 12:30, a group of Geneabloggers met in the Expo Hall so we could have a group picture taken. Here we are – I am third from the left.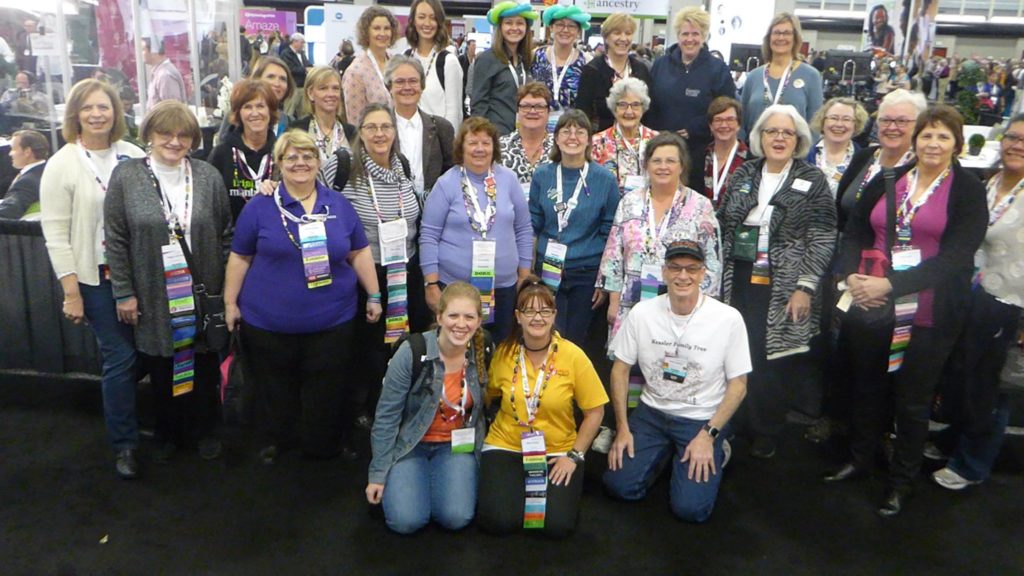 I also made a point to visit the Southern California Genealogical Society (SCGS) booth. As much as I loved RootsTech, I'm interested in attending the SCGS conference known as Jamboree. Probably not this year – but I'm already savings my pennies for next year!
At 1:30, I attended my last RootsTech session, entitled "Sources and Structures for Successful Genealogical Research in Germany", presented by Dirk Weissleder, a leading genealogist from Germany. My biggest brick wall on my mother's side is her German line so this presentation was particularly interesting to me.
A few take-aways from this session . . .
Germany is divided into 16 states and each state has its own collection of records
Germany has no census records, at least not in the way we think of census records in the U.S.
Legal restrictions are very tight in Germany, making research even more difficult
DNA research is just beginning in Germany
There are no one-name study groups in Germany
I have to say I left this presentation feeling a bit discouraged. I hadn't fully comprehended until then how difficult German research could be . . . especially when a certain researcher (yeah, that's me) doesn't have a clue where in Germany her ancestors came from.
And that reminds me . . . I forgot to mention the 20-minute free consultation session I had with a professional genealogist earlier that week. And I used that opportunity to discuss my German brick wall. So as I think about it, I've decided to write a separate blog post about that session. Stay tuned for that post, hopefully in the next few days.
So that's it for my wrap-up of RootsTech 2017. The general sessions were great fun and the presentations were interesting and informative. I had a great time meeting genealogy enthusiasts from all over the world, and especially other family history bloggers.
Featured Image Photo Credit: "wrap it up, 3D rendering," CanStockPhoto (http://www.canstockphoto.com : uploaded by argus 11 Jun 2016; downloaded 06 Mar 2017).
---
NOTES
I HIGHLY recommend these webinars, by the way. The monthly subscription fee is just under $10 and the annual subscription is just under $50. Definitely a good deal for the quality and breadth of topics discussed! ↩
I met Yvonne, a genealogy blogger, and her husband earlier in the week. ↩