Click here to read part 1 . . .
WEDNESDAY February 8th
I debated whether to go back to the Family History Library ("FHL") or head over to the Salt Palace to watch the Innovator Showdown.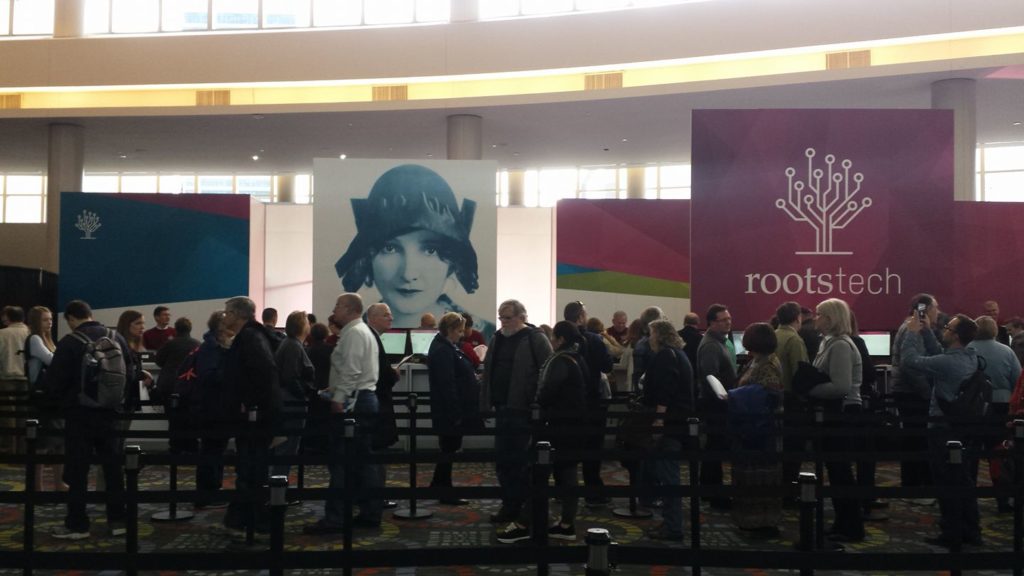 I decided on the Innovator Showdown – and was glad I did. The presentations by Liz Wiseman and Steve Rockwood were great! Here are the links . . .
Rookie Smarts: Why Leaning Beats Knowing in the New Game of Work by Liz Wiseman, President of the Wiseman Group.
General Session 2017 – Steve Rockwood, CEO of Family Search International
Next were the presentations of the ten Innovator Showdown semi-finalists. There were some great ideas this year and I was particularly interested in the presentations by Crowd Sourced Indexing and Double Match Triangulator. Here's a link for all presentations by the ten semi-finalists . . .
Innovator Showdown Semi-Finalists
At 3 o'clock, the 200-plus break-out sessions began. Yes . . . I said 200 plus!
So you can imagine that it was difficult at times to decide which session to attend. Over the next few days, there were several times when there were as many as four or five sessions that looked interesting – but since there is only one of me, a choice had to be made! Luckily, the RootsTech app helped us all keep track of the conference schedule, as well as our own schedule.
The first session I attended was a panel discussion entitled "How will DNA continue to disrupt our industry?" The panel members were Dr. Scott Woodward, Angie Bush, and CeCeMoore. Here are my "notes to self" from that session . . .
The more family members that test, the more reliable the matches become.
Autosomal DNA can sometimes be used further back than 400-500 years.
5th-8th cousin matches are good, but can be difficult to prove.
Chromosome mapping will eventually allow us to learn something about how our ancestors looked. Wow!
At 4:30, I attended "The Digital Revolution in Irish Genealogy", presented by Brian Donovan, CEO and Head of Irish Data and Business Development for Findmypast. I really enjoyed Brian's teaching style.
And a few "notes to self" from this session .  .  .
Don't forget to check Church of Ireland records – even though my ancestors were Roman Catholic – because penal laws in Ireland sometimes caused people to change religions.
Griffith's Valuation records were updated annually – but they are not yet available for the Republic of Ireland.
Military Archives from the 19-teens include witness statements, some of which cover earlier times.
Findmypast has quite a few land records, including preparatory work for Griffith's Valuation from the 1830s to the late 1840s.
At the Welcome Party that evening, the five finalists from the Innovator Showdown were announced. Digital Match Triangulator made the cut but Crowd Sourced Indexing did not.
THURSDAY February 9th
Drew and Jonathan Scott, aka "The Property Brothers", were the keynote speakers on Thursday morning. These guys were fun and seemed genuinely happy to share stories of their family and their Scottish heritage.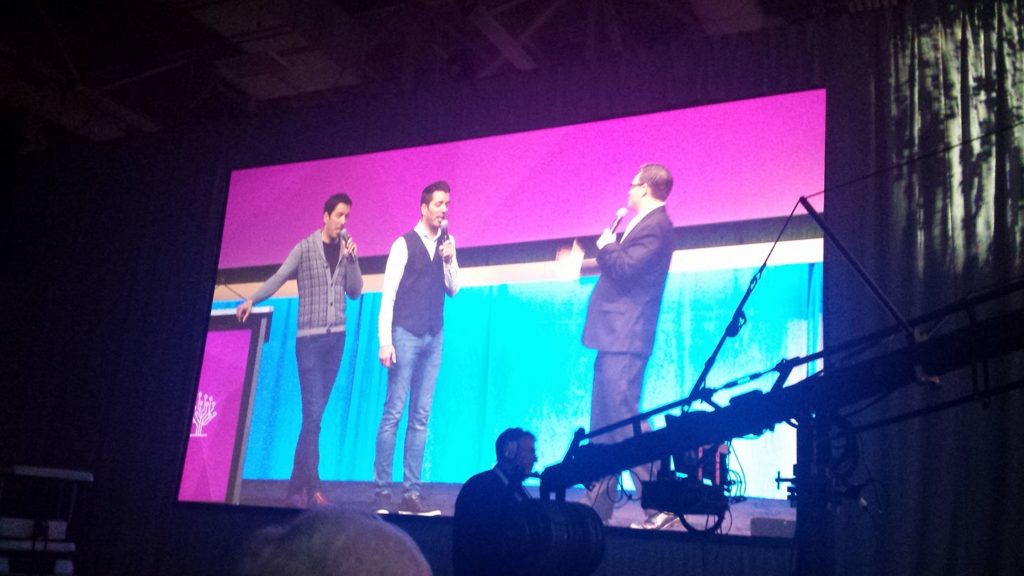 Click here to see their presentation.
After the keynote, I headed over to the Expo Hall to wait in line – along with everybody else. Just had time for take a quick spin through the hall and then head out for another busy day of three sessions.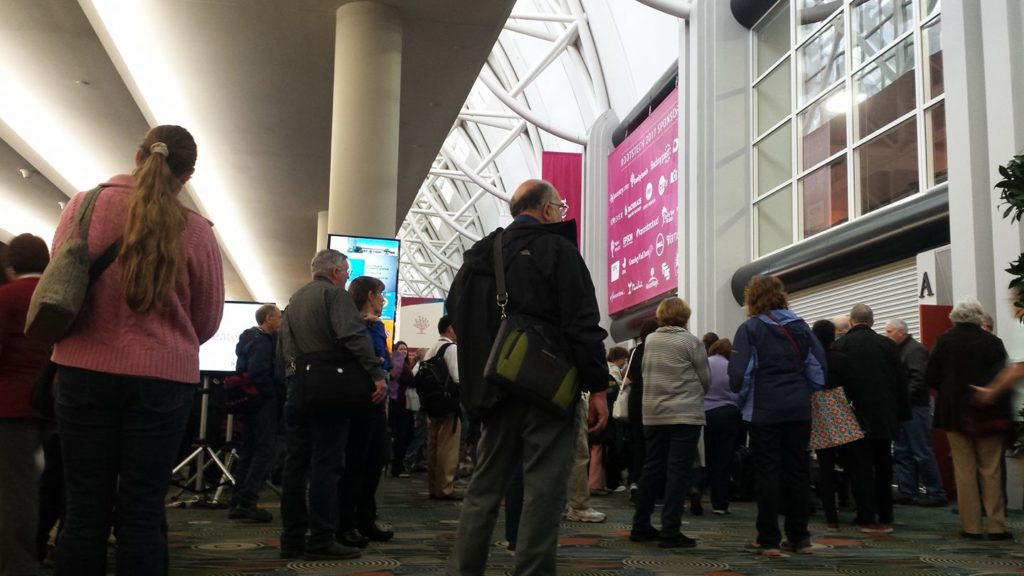 At 11 o'clock, I attended the "DNA Triangulation" session with Kitty Cooper. I was in over my head on this one but I've learned with DNA that you just have to hang in there. After awhile, some of the concepts start sinking in. My take-away from this session was simple. I need to spend some time reading Kitty's blog!
After lunch, I attended the "DNA Matching on MyHeritage" session with Dana Drutman, Products Manager at MyHeritage. It was interesting to hear that MyHeritage is getting ready to add a DNA chromosome browser.
Click here for a link to her presentation.
At 3 o'clock, I went to the "From Click to DNA Connection" lab with Diahan Southard, author of Your DNA Guide. For the most part, I was familiar with all the tips and tricks that Diahan shared – but I did learn a few new things. And I particularly appreciated her reminder to stick with high probability matches, so as not to spend too much time chasing rabbits down the rabbit hole.
Two "notes to self" . . .
Check out Diahan's web site, Your DNA Guide, and
Don't forget to upload a gedcom file to FamilyTreeDNA!
For the last session of the day, I attended "Searching for Surnames" by Kristy Gray. Kristy is a well known lecturer based in the UK and author of The In-Depth Genealogist blog. She shared lots of good surname searching ideas and I enjoyed the "expect the unexpected" samples she shared. In fact, it gave me the idea to write a future blog post about the U.S. Census record that indexes my grandfather as CIEL SPATIN – instead of CID DALIN. Hmmm.
Another long but fun day! After dinner that night, I took this photo across the street from the Salt Palace before heading back to the hotel.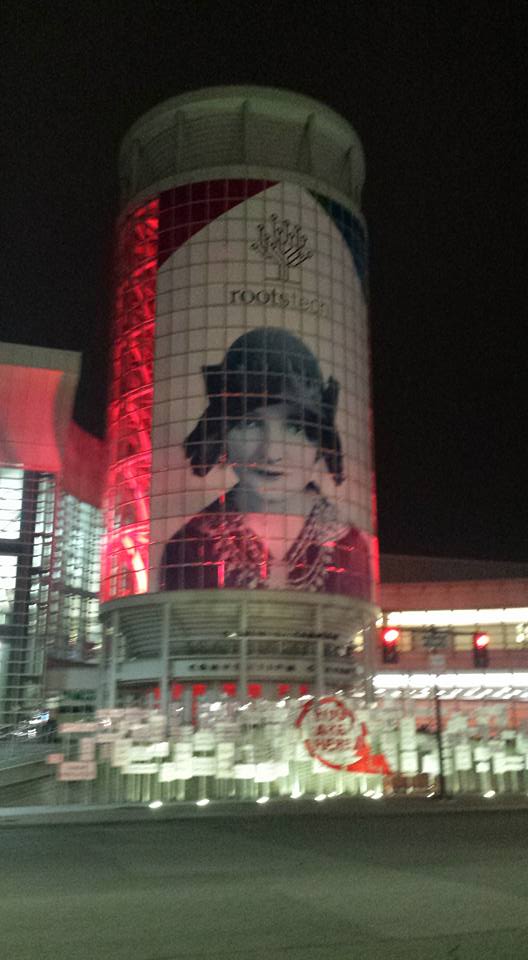 To be continued . . .