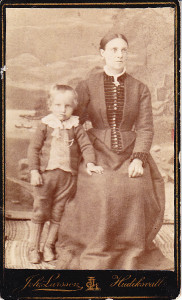 After several years of research and a recent phone session with The Photo Detective Maureen Taylor, I now believe that the woman in this photo, dated about 1890, is probably my great grandmother Brita Johansdotter1 Dalin and her son Johan.
But let me back up a bit and fill you in.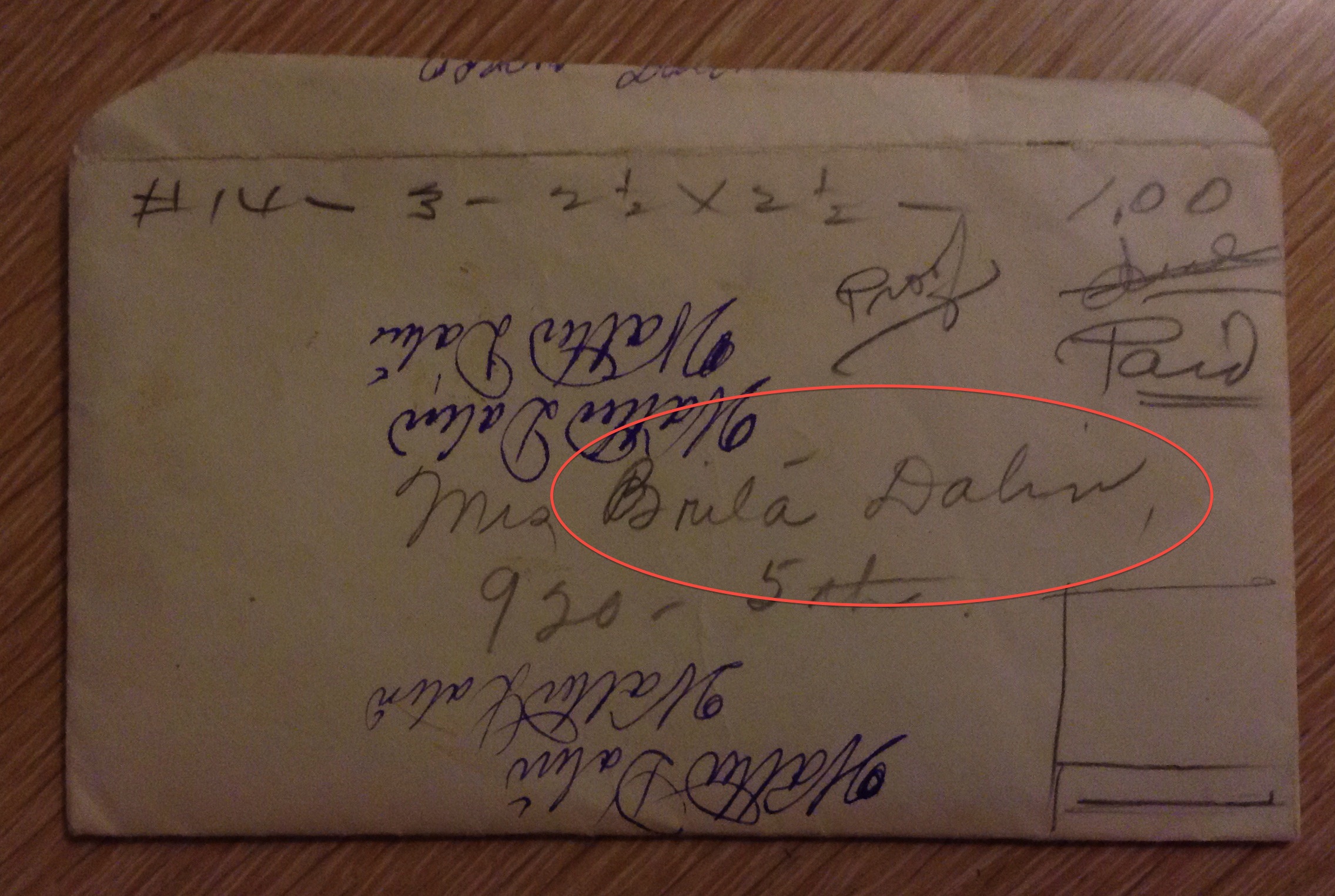 About four years ago, I came across the photo ("Photo #1") together with several others inside an envelope with the name "Mrs. Brita Dalin" written on the outside. The envelope was located in a box with other photos and documents that appeared to have at one time belonged to my Swedish great grandparents. However, none of the individuals in the photos were identified.
In an attempt to identify at least some of the individuals, I began by focusing on three of the photos in the envelope – Photo #1 and two others, all of which are pictured together below – and quickly realized there were a few clues.
Clue #1. Photo #1 was taken at a studio in Hudiksvall, Sweden; Photo #2 was taken at a studio in either Hudiksvall or Ljusdal, about 35 miles west of Hudiksvall. According to my great grandfather Andrew Dalin's Declaration of Intention,2 both he and Brita were born in Hudiksvall.
Clue #2. "Mrs. A. Adalin [sic]" was handwritten on the back of Photo #2 and "Mrs. Andrew Dalin" was handwritten on the back of Photo #3.
Feeling quite comfortable now that the photos likely belonged to Brita, I began to wonder if the couple in Photo # 3 could be her parents? Or maybe Andrew's parents? And who is the little boy in Photo #1? And who are the children in Photo #3?
At this point, it hadn't really occurred to me that Brita might be the woman in either Photo #1 or Photo #3. Well,  maybe it occurred to me just a little. And I admit that I hoped the woman in Photo #1 was Brita – because that might mean that the boy was her son John.3
But that seemed too much to hope for. And anyway, the photos looked too old for that to be the case. So who are these people?!
I decided to step back and take a look at what I knew about Brita and Andrew.
They were both born in Hudiksvall, Sweden. (per Andrew's Declaration of Intention)4
Andrew was born in 1859. (per his Declaration of Intention)5
Brita was born in 1864. (per her death certificate)6
Andrew and Brita married in Sweden in about 1886. (per the 1900 U.S. Census)7
Andrew immigrated to the U.S. in about 1889. (per Andrew's Declaration of Intention)8

Brita immigrated to the U.S. in about 1892. (per the 1910 U.S. Census)9

Andrew and Brita had a son born in Sweden who died when he was a small child. His name was John. (per my father; see footnote #3)
And then there's what I didn't know – Brita's maiden name. That certainly wasn't the goal of identifying the folks in the photos but it always made me a little crazy nonetheless.
But I digress.
And so . . . that's the end of Part 1.
Stay Tuned for Part 2. Hopefully tomorrow. Or soon anyway.
Copyright (c) 2016, Lark M. Dalin Robart
---
FOOTNOTES